What would you do?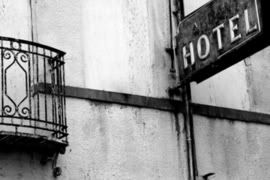 I recently met Jack. Jack owns a franchise of a major hotel chain. We were talking about marketing and he found himself in a tough place; his brand is one of 10 owned by the chain and he has too much competition from his own company-mates, not just his other competition.
Seems kind of crazy to me for one umbrella company to keep 10 competitors under it's wing. They have overlapping price points in several properties making it a tough choice for consumers. He recognizes it too, but there's only so much he can do. The parent company only allows "so much" in the form of marketing; much of it needs to come from their corporate world.
I normally help Mom & Pop companies, ones who's competition is right down the street; this is a different fight altogether and has me thinking a lot. If your customer isn't normally local, then how do you build traffic to your location? First thing I think of is a billboard right off the exit of the expressway.
Big Letters: "Fall Asleep Here!"
Of course, the other fight this man has is that his brand is positioned smack dab in the center of another handful of other hotels. So what he says on that billboard needs to cut to the chase quickly & succinctly...
Big Letters; "Sleep, Shower, Eat...$59 Exit Now!"
I know, I know...I'm not normally a fan of the price shoppers, but in this case, it's a large factor in the shoppers' decision. That board says exactly what someone driving past wants to know. I'm not saying this is the end all for Jack, but his company needs to position itself to answer that one question any consumer has to ask: "What's in it for me?"
Jack will do that by Saying Something Important!